About Jennifer S. Kitchin, MD, FAAD
Dr. Kitchin received her Medical Doctorate from NYU Medical School in 1997 and is a 1992 graduate of the University of Pennsylvania with a degree in biology. Dr. Kitchin did research at the University's School of Medicine in cell biology and immunology. She completed her internship in Internal Medicine at Lenox Hill Hospital in 1998, and completed her dermatology residency at SUNY Downstate Medical Center in 2001, where she presented a poster at a national dermatology meeting.
Dr. Kitchin has extensive experience in cosmetics and in clinical dermatology as well as in dermatologic pharmacology research, performed at the Skin and Cancer Center at The New York University Department of Dermatology. She is the author of several papers published in prominent medical journals, such as The Journal of the American Academy of Dermatology, The Journal of Drugs in Dermatology, and The Dermatology Times. Dr. Kitchin is the author of a textbook chapter in Dermatology in General Medicine, which is held as a standard for physicians world wide. Dr. Kitchin is the co-author of the best selling book, The Dermatologists' Prescription For a New You. Additionally, Dr. Kitchin serves as a consulting editor for the best selling book, The Pill Book, a New York Times top ten best seller.
Dr. Kitchin is a fellow of the American Academy of Dermatology and a member of the New York State Medical Society. She has been in private practice since completing her residency.
In addition to focusing on all aspects of general dermatology, dermatologic surgery, and laser surgery, Dr. Kitchin is a leading expert in the field of cosmetic dermatology, with a particular emphasis on skin care, the use of antioxidants, lasers and cosmetic injectables. She has many years of experience treating patients with Botox, and dermal fillers such as Juvederm, Restylane Lyft, Voluma, Volbella, and Vollure.
Dr. Kitchin's recommendations include CoolSculpting for the permanent elimination of excess body fat, Collagen Pin with PRP for rejuvenation and treatment of fine lines and diminishing pore size, and non-invasive PRP treatment for hair restoration for both men and women.
Dr. Kitchin's expertise includes treating leg veins, utilizing modalities such as sclerotherapy, and the Excel V Laser. Dr. Kitchin also utilizes Excel V laser for redness, rosacea, and facial telangiectasias. She offers Fraxel laser for the reversal of sun damage, elimination of brown spots, and treatment of scars. For long term rejuvenation, skin tightening, reversal of skin aging and free radical damage, Dr. Kitchin offers Secret RF (a radiofrequency device for tightening, lifting, and reversal of lines and brown spots), Laser Genesis, Chemical Peels, and photorejuvenation techniques. In addition, Dr. Kitchin specializes in preparing and recommending a total skin care regimen, based on each individual's needs, caring for the skin health, and overall health of each of her patients.
Awards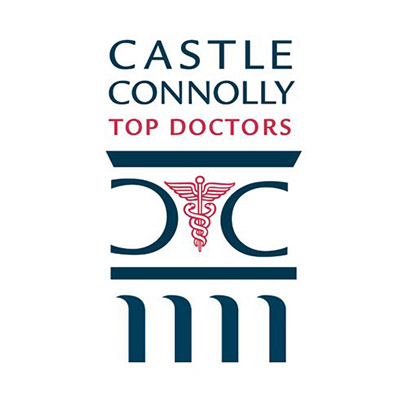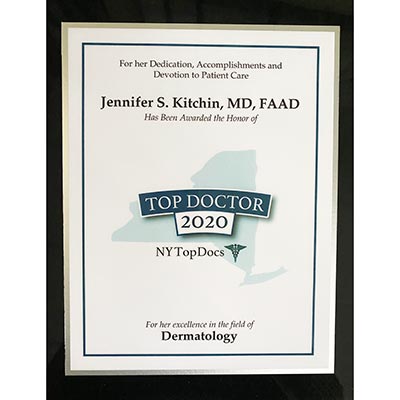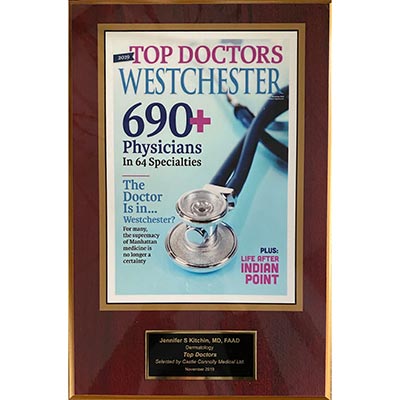 Books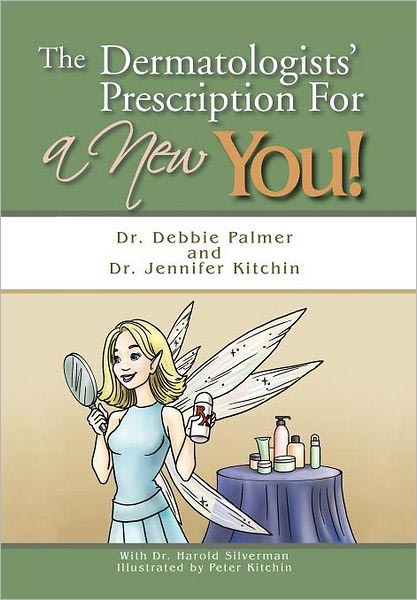 Reviews

Great dermatologist!

Love Dr. Kitchin! Our whole family sees her. She is very smart, and one of the nicest and most caring physicians that I have ever encountered.
Self-verified patient of Dr. Jennifer S Kitchin - Posted on June 7th, 2018

I highly recommend Dr. Kitchin!

Dr. Kitchin is the best dermatologist I have ever seen. She is smart and thorough, and she saved my life.
Self-verified patient of Dr. Jennifer S Kitchin - Posted on October 19th, 2017

Love this dermatologist!

Dr. Kitchin is my favorite doctor! She is the best, and I highly recommend her!
Self-verified patient of Dr. Jennifer S Kitchin - Posted on September 16th, 2017
Press
Online Press